[show_wp_shopping_cart]
Defence Aviation will provide a significant platform in strengthening business opportunities in international aviation sector by publishing your Press Releases

Features:
– Publish unlimited press releases
– More targeted audience for Aerospace Companies than any other PR distribution site.
– Exposure on website, email newsletter and  social media through out the year.
– Complete details of your company on the Business Directory
– 365 days of support and consultation
Example: On the Website and On Email
$ 799/Year
[wp_cart_button name="Buy Now!" price="799″]
Why spend thousands of dollars on LinkedIn, Twitter or general Press Release distribution services?
Journalists and key decision-makers visit Defence Aviation for news gathering and research. Our readers include the world's leading media, businesses, institutions, industry personnel and individuals. In one place you can distribute your Press Release to the targeted audiences, With Defence Aviation you will reach decision makers, achieve high search engine visibility, get feature rich options such as anchor text, embedded video, pictures among other benefits.
Defence Aviation Business Directory is  like  "Yellow Pages" or "Business Listings" for military aviation companies and related industry. Companies such as yours, list contact details and other information to gain more exposure also increase online presence (Better for SEO).
Target audience and Readership:
– Defense Institutions, Defence Ministries, Military Personnel
– World Armed Forces Personnel
– Governmental Agencies
– Journalists and Writers
– World Embassies
– Business Firms
– Defence Firms
– Defense Companies
– Small Medium Enterprises
– Strategic Study Groups
– Political and Defence Researchers

[box type="shadow" align="aligncenter" ]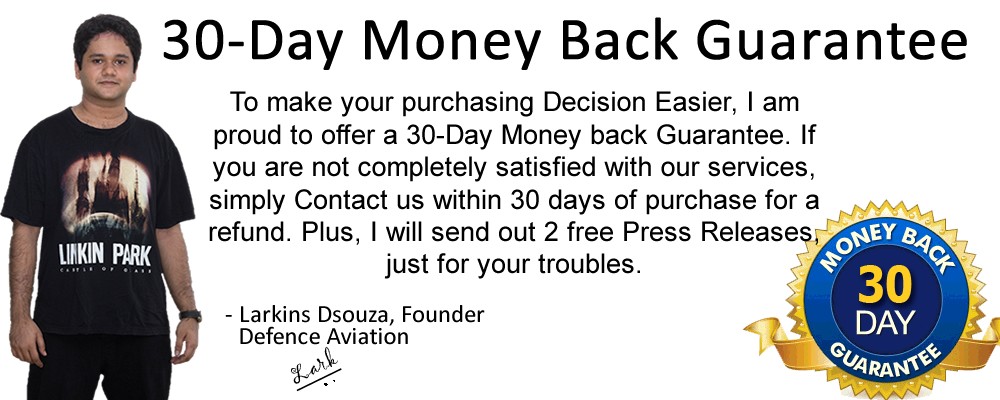 [/box]
[wp_cart_button name="Buy Now!" price="799″]