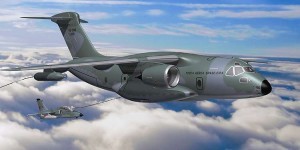 Embraer and the Brazilian Air Force have selected BAE Systems to provide flight control electronics for the KC-390 military transport aircraft. The Embraer KC-390 is a medium-size, twin-engine jet-powered military transport aircraft under development by Brazilian aerospace manufacturer Embraer.  The KC-390 is a twin-turbofan powered medium-weight transport jet that can be refueled in flight and can be used for in-flight or on-ground refueling of other aircraft.
In 2006, Embraer began studies on a military tactical transport design of a similar size to the C-130 Hercules. In April 2007, Embraer reported it was studying a medium-size airlifter, with the company designation C-390. Global competition in the 20-ton air transport segment continues to intensify, with Brazil's launch of its KC-390 program and India and Russia's joint UAC/HAL Il-214 Multirole Transport Aircraft (MTA) program.
Under the contract, BAE Systems will supply flight control computers and actuator control electronics. Dr. Ehtisham Siddiqui, vice president and general manager of commercial avionics for BAE Systems said, "This contract broadens our relationship with Embraer and we are excited about working with them to develop the flight control system for their next generation aircraft".
"We are pleased to begin working with BAE Systems on the KC-390 flight control systems. The company's proven experience in developing and producing fly-by-wire systems will contribute greatly to the success of this aircraft," said Eduardo Bonini Santos Pinto, senior vice president Operations & COO, Embraer Defense and Security.
The KG-390 may directly compete with Airbus A400M, Lockheed Martin's C-130J, Russia's AN-12 and UAC/HAL MRTA project. The unit price of KC-390 is estimated to be around US$50 million, while similar competitors such as the C-130J for up to $62 million. The vice president of Embraer, Luís Carlos Aguilar, said that according to their estimates, some 695 military transport aircraft in the world will need to be replaced during the next decade, and that there is potential market for this kind of plane.
BAE Systems will be developing a full-authority digital flight control system that provides fly-by-wire flight control, integrated flight and propulsion control, aircraft center-of-gravity computation for stores and fuel contents, structural air loads alleviation, and carefree handling performance. BAE Systems has more than 20,000 systems in service on commercial and military aircraft around the world and the company has over four decades of experience in developing and producing fly-by-wire systems.
In early March 2008, the Brazilian Government planned to invest about R$60 million (or US$33 M) in initial development of the aircraft. At the same time, the Brazilian Air Force was finalizing the purchase contract that probably will buy 22 to 30 aircraft in the first order. In May 2008, the Brazilian Congress released 800 million Reais (US$440 M) to be invested in the project and development of the aircraft. On 14 April 2009, an order by the Brazilian Air Force for the KC-390 tanker/transport version was announced. In March 2010, Embraer drew up a development schedule, with the first prototype aircraft scheduled to be delivered in late 2014. In July 2010, during the Farnborough Airshow, the Brazilian Air Force announced it will order 28 KC-390s. During the show, Embraer announced an increase in the cargo capacity to 21 ton (23 ton) and that first flight is planned for 2014.
The KC-390 has now become a multinational effort with Argentine Defence Minister Nilda Garré announced that Argentina will participate on the construction of the C-390. On 24 August 2010 the defence ministers of Chile and Brazil signed an agreement for Chile's ENAER company to join KC-390 industry team. Again in September 2010, it was reported that the Czech company Aero Vodochody might manufacture some parts for the KC-390 and on 23 March 2011, DRS Defense Solutions was selected to deliver the tanker/transport's cargo handling and aerial delivery system.
BAE Systems will provide software, hardware, and system design and support integration of the flight control electronics on the aircraft. Development of the system will be performed in Rochester, United Kingdom, and Johnson City, New York.
BAE Systems has provided support to the Brazilian Armed Forces for Naval guns, radars and armoured vehicles since 1998 from its office in Brasilia.