India has the third largest Army, the fourth largest Air Force and the seventh largest Navy in the world. Although it may take pride in these statistics however the fact is even after 61 years of Independence, India continues to be dependent on foreign countries for its weapon systems and technology.
From combat aircraft to state-of-the-art weapon systems and   high-end technology equipments for the Indian Air Force , the lists of imports is endless and the costs run upto billions of dollars. This over dependence on foreign countries for Air Force inventory is certainly hampering India's quest to become self dependent and become a global player in the world which demands supreme military power.
Since most of the Air Force inventory is imported from foreign countries its but obvious that for any maintenance issues we need to rely on them. The Indian Air Force has become vulnerable to the whims and vagaries of foreign suppliers that range from sudden foreign policy shifts, price hikes and glitches in technology.
The Indian Air force (IAF) comprises of 1,322 aircraft that include 680 combat aircraft and 305 helicopters, presently operating in a total of 34 squadrons.
Most of the IAF's 797 fighter jets are of Soviet/Russian origin. These include the Mikoyan-Gurevich MiG-21, Mikoyan MiG-27, Mikoyan MiG-29 as well as the Sukhoi Su-30MKI. The IAF also has the Anglo-French SEPECAT Jaguar and French Mirage 2000 aircraft, produced under license.
The MiG-21 around 200 of them, forms the backbone of the IAF however these aircrafts were acquired in the late 1960s and early 70s and they have been aging and almost become obsolete. The Mig-21's also have a poor safety record and hence the need for replacement is necessary. There is an estimate that in the nine years from 1993 to 2002, IAF lost over 100 pilots in 283 accidents and around 50 pilots have been lost in MiG-21s alone.
Russia decided to ground a substantial number of its MiG-29 aircraft owing to structural defects. The news sparked off immediate concern for both the Indian Air Force (IAF), which flies three squadrons of this 'air superiority' aircraft that played a role during the Kargil war, and for also the Indian Navy which will begin taking delivery of the first four of a total 45 of this aircraft's naval variant, the MiG-29K, later this year.
The IAF is looking for advance jet trainers (AJT) other than the British-supplied Hawk aircraft to train its pilots. This is because the IAF is facing considerable problems relating to product-support for the 66 Hawks bought only a few years ago. The AJT will play a vital role in training rookie pilots to transition from subsonic trainer aircraft to 'high-performance' supersonic fighters.
In 2008, the Russian company Rosoboroexport had suddenly hiked the price of 80 Mi-17-IV transport helicopters from $650 million to $ 1 billion after the deal had been finalized.
The MMRCA tender in which the Indian Air Force is looking to  replace its aging fleet would include the procurement of 126 multi-role combat aircraft valued at $10.4 billion.
So the conclusion is that India has been over-dependent on foreign countries for its Air Force inventory instead of being self-reliant and most of its Aircraft or Aircraft inventory either have structural defects or are aging which is a major concern.
Taiwan's Lost Decade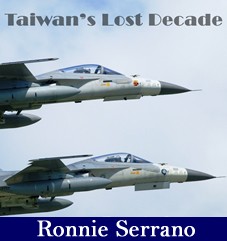 If you like what you have read, you would love the
FREE
eBook "Taiwan's Lost Decade" by Ronnie Serrano. The eBook explores past and current status of the RoCAF and what their future plans to deal with China's current and future multirole fighter threat, just fill in your details below and click "Get Started!"

We respect your privacy. You can unsubscribe at any time.